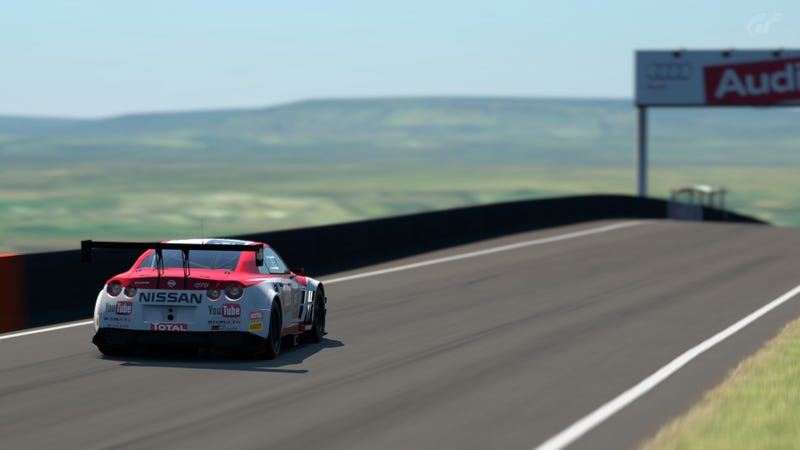 Welcome to The DriverSports World Series, brought to you by the TPRA. This trial event will replicate the Bathurst 12hr race by running the 2013 Nissan NISMO GT-R GT3s on Mt. Panorama for a total of 3 hours.
This event will be one week removed from the real world event, Saturday February 14th, and will run one quarter the length of the real race, which is 3 hours. To allow for driver changes, and to simulate the regrouping that happens under yellow flags the race will be segmented in to 4 separate timed races of varying length. Drivers can team up to tackle the race or they can run the entire 3 hours alone.
This is a trial event for The DriverSports World Series.
General Rules and Regulations:
A PSN Text Chat will be opened for use as the official race communication channel. This is where hosts will coordinate the start of each race and also where drivers will announce their driver changes.
Team members must run identical cars with the same number and colors.
When making a driver change drivers must inform the host of who will be driving for the team in the upcoming segment.
The first grid will be determined by a 10 minute qualifying session, and subsequent races will be set to the previous race results. Teams who made driver changes should be placed at the rear of the field.
Final scoring will be based on total number of laps completed, then the finishing order of the final race.
Race Day: Saturday Feb 14, 2015
Registration:
Registration Page - If registering a team, register under the team name with member's IDs in the notes section.
Closes: Saturday Feb 14, 2015, 12:00 pm Eastern
Time:
Lobbies Open: 2:00 pm Eastern
Race Start: 2:30 pm Eastern
Cars:
Nissan GT-R NISMO GT3 '13
Nissan GT-R NISMO GT3 Base Model '13
Nissan GT-R NISMO GT3 Team RJN '13
Nissan GT-R NISMO GT3 N24 Schulze Motorsport '13
GT Auto:
Oil Change: Allowed
Increase Ridgidity: Allowed
Tuning Parts:
Tires: Race: Hard
Turbo: Normal
Power Limiter: 100%
Ballast: 0kg
Track: Mount Panorama Motor Racing Circuit / Weather: Variable / Time: Variable
Location: DriverSports Club Lobby (Club ID: 1005129, invite required)
Race Details:
Race 1: 1 hour, Track Time: 5:50 am, Weather: 10%, Changeability: 2, Surface Water: 0%
Race 2: 30 mins, Track Time: 9:50 am, Weather: 10%, Changeability: 2, Surface Water: 0%
Race 3: 1 hour, Track Time: 11:50 am, Weather: 10%, Changeability: 2, Surface Water: 0%
Race 4: 30 mins, Track Time: 3:50 pm, Weather: 10%, Changeability: 2, Surface Water: 0%
Basic Settings:
Room Mode: Race 1: PQE, Race 2-4: PE
Room Privacy: Club Only

Room Settings:
Room Comment: DSWS Bathurst 3hr - Div #
Fixed room host: Yes
Max Number of Participants: 16
Race Quality: Recommended
Voice Chat Quality: Disabled (The TPRA TeamSpeak server is available for voice communication)
Course Settings:
Course: Mount Panorama Motor Racing Circuit / Weather: Variable / Time: Variable
Weather: Race 1-4: 10%
Time: Race 1: 5:50 am, Race 2: 9:50 am, Race 3: 11:50 am, Race 4: 3:50 pm
Time Progression: Race 1-4: 4
Weather Changeability: Race 1-4: 2
Surface Water at Race Start: Race 1-4: 0%
Qualifier Settings: Race 1 Only
Race Format: Race Alone
Start Type: Pit Start
Time Limit: 10 mins
Endurance Race Settings:
Time Limit: Race 1: 1 hour, Race 2: 30 mins, Race 3: 1 hour, Race 4: 30 mins
Race Settings:
Hold Races Automatically: Disabled
Start Type: Grid Start with False Start Check
Grid Order: Race 1: Fastest First, Race 2-4: Grid Based on Previous Race Results
Boost: Off
Penalty: Off
Tire Wear/Fuel Consumption: Normal
Grip Reduction on Wet Track/Track Edge: Real
Require No. of Pit Stops: 0 Time(s)
Visible Damage: On
Mechanical Damage: Heavy
Slipstream Strength: Real
Car Selection Method:
Car Selection Method: Garage
Car Filters: Filter by Make
Country: Japan
Manufacturers: Nissan
Filter by Performance:
PP Limit: 617 PP
Max Power Limit: 621 HP
Weight Minimum: 1350 kg
Drivetrain: FR
Tires: Racing: Hard or Less
Nitrous: Prohibited
Vehicle Tuning: No Limit
Limit Driving Options:
Skid Force Recovery: Prohibited
Active Steering: Prohibited
Active Stability Management (ASM): Prohibited
Driving Line: Available
Traction Control: Available
ABS: Available